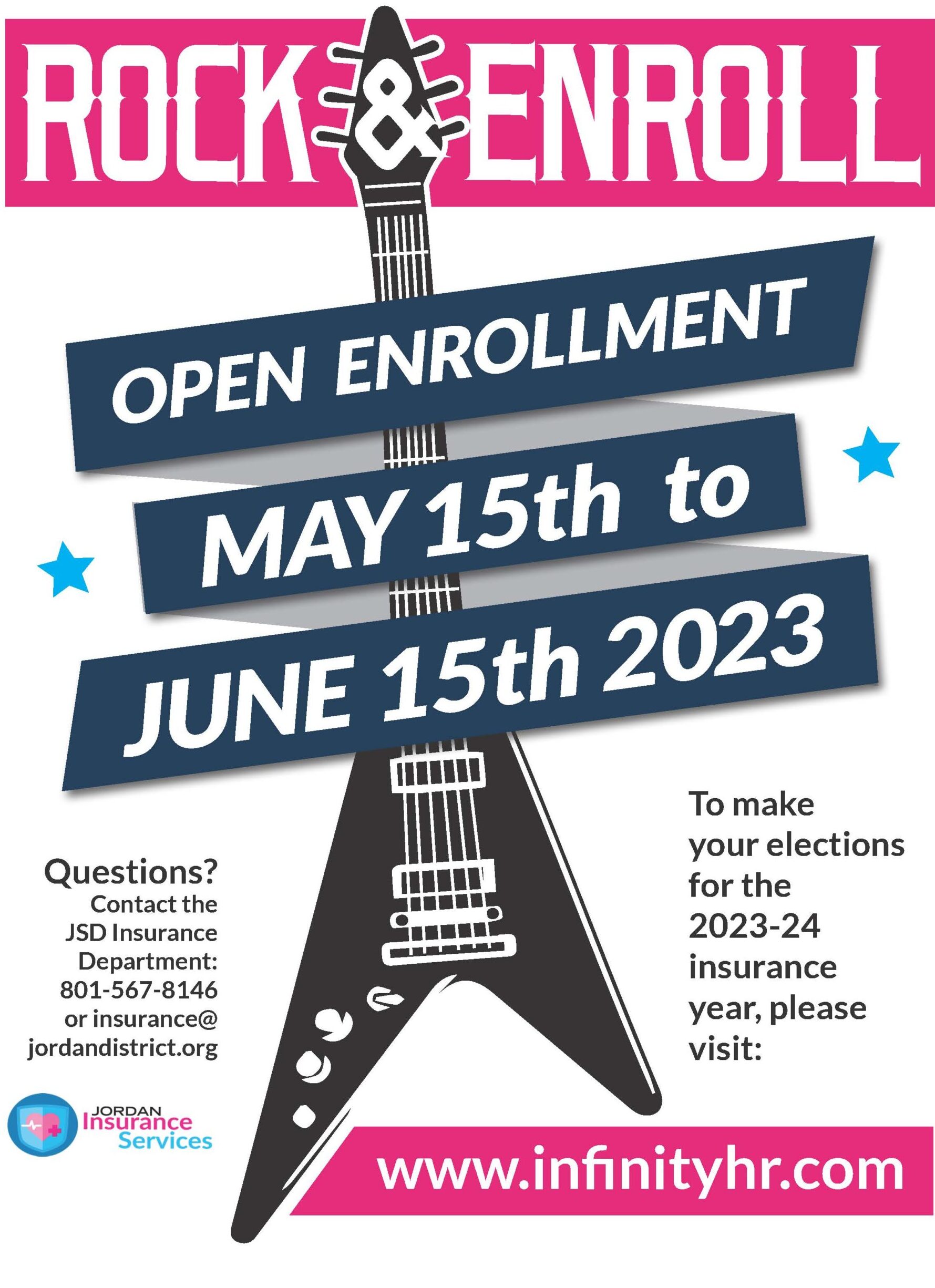 ---
Open Enrollment Q&A
---
Open Enrollment 2023-24 Highlights

Arcoro/InfinityHR will be used for all benefit eligible employees to make benefit elections offered at Open Enrollment and for newly eligible employees. Arcoro/InfinityHR is also used to make changes due to qualifying events throughout the plan year. Remember, you have 30 calendar days from the date of the event to make those changes.
All benefit eligible employees should login to the Arcoro enrollment system to verify dependents, add beneficiary information and make open enrollment elections. Make sure you add any dependents (including your spouse) to the basic life section so you get the district paid benefit. Instructions on how to log in are below.
In an effort to maintain a comprehensive offering of benefits, while at the same time keeping premiums at the current level, the following changes will be made for 2023-2024:

Premiums
Premium sheets are located on the Insurance department webpage
Medical

Updating the adoption benefit to $4,000
Added benefit for infertility, covering additional costs up to $5,000/year and $20,000/lifetime
Increased the STAR (QHDHP) Plan deductible to $1,500/$3,000 due to IRS minimums
Mental Health and Substance Abuse visit limits have been removed


Mental Health Benefit Changes

Administrative changes recommended by PEHP on all plans

FSA

Health Care Account maximum increase to $3,050
If you wish to participate in Flexible Spending, you must elect new amounts each year. FSA election amounts do not roll over from year to year
Administrative fee increased to $3.08/mo. Paid by the District if you elect $1,200 or greater

Dental
Life

Employees new guarantee issue amount is $300,000
All employees and their spouse can enroll in voluntary life insurance to the guarantee issue of up to $300,000 for employee and $50,000 for your spouse without answering health questions
All dependents will be covered up to age 26
Enrollment guide, premium sheets, carrier information, certificates and notifications (i.e. CHIP, Medicare D Creditable Coverage) are available for review on the Insurance department webpage.
If you require assistance accessing the webpage you may contact the insurance office.
Summary of Benefits and Coverage (SBC) is a document, required to be made available by Health Care Reform. The purpose of the SBC is to provide information to help employees compare health plans. The SBC is available on the District Insurance Department webpage. A paper copy will be provided upon request. If you have any questions regarding the SBC, please contact a member of the Insurance Department for clarification.
Please familiarize yourself with the benefits in the master policy. A copy will be available on the Insurance department webpage.
---
Arcoro Login Instructions
Go to 

www.infinityhr.com
If you haven't logged in before and don't know your username and password, click on the "Forgot your username?" link. This will ask for your date of birth and Social Security # so that it can look up your record.
The following window will give you your username and let you set up a password. Make sure your new password has all of the listed requirements.
Click the link to log in using the username and password you just created.
---

Having a Baby? Or Any Other Qualifying Event?
Please remember you only have 30 days to make those changes to your plan. IRS regulations govern how and when an employee may make cafeteria plan elections and changes to those elections.
---

Dependent Verification
May be required to supply the Insurance Department with legal documents (i.e. marriage certificate, birth certificates, divorce decree, etc.).  If you are required to send in documentation, please send them to insurance@jordandistrict.org.